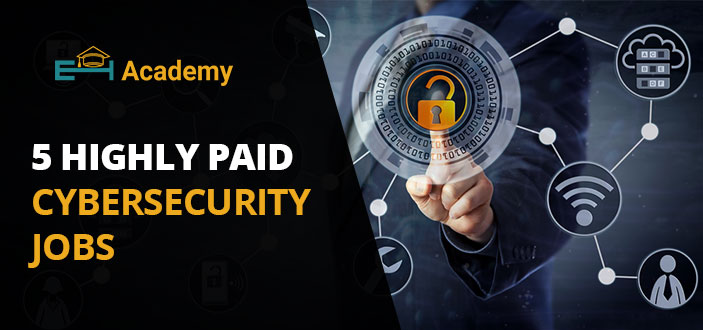 Cybersecurity has become a challenge over the last few years as the numbers of cyber-attacks are increasing day by day. The first incident of cyber-attack was reported in 1903 when technology was evolving itself but now situation is different. Modern cybercriminals have upgraded themselves with powerful tools that cause of breaking down cybersecurity system. These tools have become known as "Exploit Kits" and are designed to exploit human made system weakness or vulnerabilities in your PC or Servers; those who operate these tools have been dubbed as "Script Kiddies". Hence a need of cybersecurity professional has become essential part of modern organizations.
Cybersecurity professionals support organizations for designing the effective security framework and network that protect data storage, sensitive information and clouds from unwanted access. Here you can find the 6 highest paid cybersecurity jobs that open opens the immense opportunity to earn massive income.
1) Application Security Engineer
This key role is considered very important and it comes top in cybersecurity matters with an average salary of $100K to $210K (reference of 2017 Salary guide). Even some lead professionals are getting more than it. Modern organizations must have to use 3rd party software like AWE, Microsoft's Azure and SAP etc in order to maximize their productivity, hence professionals are required to make sure Safety measures. Professionals also support organization to prevent the chances of hackers' attacks. The key task of application security engineer is to secure all software that is used by business and defined access to limited authorized persons.
2) Network Security Analysis
The job of a network security analyst is also considered as highly paid. You will be surprised to hear that the median salary for this job is around $90K to $150K which is not bad. The primary task after getting this job is to manage and secure the entire organization computer network with an appropriate manner. The information system also comes under this job. Remember, your small negligence can be the cause of huge loss as vulnerable devices and systems must have to be away from cybercriminals.
3) Information Security Manager
According to the Salary Outlook 2017, this job comes among the most highly paid jobs. Information security managers' position in the organization is considered very strong. the key persons. (the article does not include any exec-level roles in this list as CISO, CTO, and CDO titles are understood to make C-level type salaries across the board.) With an estimated salary range between $120, 00 and $180,000, strategic companies that rely on their exclusive data are adjusting budgets to be able to afford this role since it's solely focused on the security of these information systems and a small error in information is sufficient to destroy the whole organization.
4) Cybersecurity Analyst
Moving forward to the cybersecurity analyst, the average annual salary of cybersecurity professional falls between $90K and $184K. The experienced professional are getting high salary because of their individual key role to protect cybersecurity and prevent unwanted access from hackers. Hackers use malware, malware, denial-of-service attacks, viruses, and hacks, on a company's website and computer networks to get sensitive information. The cybersecurity analyst job to design the powerful security system to avoid high risk factors.
5) Penetration Testing
For many, the title and job of penetration testing are still new and unfamiliar but yes it is also considered important and highly paid job activity. The average salary of penetration testers depends on their experience. However, they can easily earn $80K to $130K. Organizations are often looking to routinely test their cybersecurity system with defined compliance and find out any vulnerabilities. Hence they hire full-time experts for this role, while many organizations are looking to do quarterly tests that would benefit most from outsourcing to a consultants.