Organizations are struggling to hire IT professionals with knowledge and experience in cyber-security. A shortage of skilled cyber-security practitioners is leaving organizations across all industries vulnerable to attack. The situation is getting worse as in 2016, we have witnessed some high ranked breaches that affected many companies including Target, Sony, Adobe, Ashley Madison and others.
Companies are paying double to hire the best and brightest IT security professional, as market is facing lack of skilled professionals in the field. However, the universities are failing to provide quality cyber security education to prepare them for the ongoing and upcoming cyber challenges. This created a real challenge for organization to settle for ordinary cyber security professionals.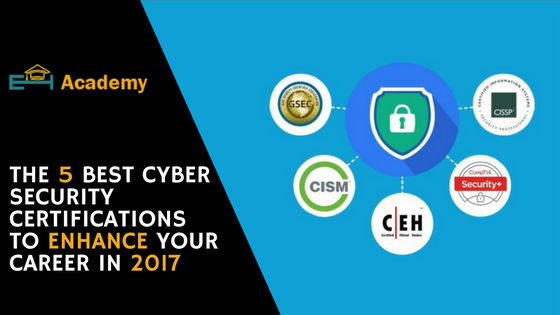 To stand prominent in the field, many prefer certifications to enhance their skills. The certificate courses provide the candidate with the practical based experience to deal with the real life threat, rather than only education. A certification in any relevant domain, including analytics, compliance, or management skills, could improve your career advancement opportunities within your current organization or give you the extra boost you need to nail down a new job.
Here are some best cyber security certifications that will enhance your career in 2017:
CompTIA Security+
CompTIA's Security+ is a well-respected, beginner level security certification. Security+ credential holders are recognized as possessing superior technical skills, broad knowledge and expertise in multiple security-related disciplines. As Security+ is an entry-level certification, successful candidates should possess at least two years of experience working in the area of network security in order to move further in the field.
CompTIA security+ training is available online, and it is recommended to have expert learning before appearing for the exam. If you're thinking about taking the Security+ exam sometime in 2017, be aware that CompTIA released the current version – SY0-401 – in May 2014. Because the organization typically releases exams every three years, a new exam should be available in late spring or summer 2017.
GIAC Security Essentials (GSEC)
The GSEC certification is designed for professionals seeking to demonstrate that they not only understand information security terminology and concepts, but also possess the skills and technical expertise necessary for "hands-on" security roles.
GSEC credential holders demonstrate knowledge and technical skills in areas such as identifying and preventing common and wireless attacks, access controls, authentication, password management, DNS, cryptography fundamentals, ICMP, IPv6, public key infrastructure, Linux, network mapping, and network protocols.
The learning material is available online. However, the GIAC Security Essentials exam is quite a bit more expensive than the Security+ exam.
Certified Ethical Hacker (CEH):
The Certified Ethical Hacker (CEH) is an intermediate-level credential offered by the International Council of E-Commerce Consultants (EC-Council). It's a must-have for IT professionals pursuing careers in ethical hacking. CEH credential holders possess the skills and knowledge on hacking practices in areas such as footprinting and reconnaissance, scanning networks, enumeration, system hacking, Trojans, worms and viruses, sniffers, denial-of-service attacks, social engineering, session hijacking, hacking web servers, wireless networks and web applications, SQL injection, cryptography, penetration testing, evading IDS, firewalls, and honeypots.
To obtain the CEH certification, self-study is required along with official course material. The CEH Training program is available in affordable price to encourage the students and enhance their skills in career in 2017.
Certified Information Systems Security Professional (CISSP)
The Certified Information Systems Security Professional (CISSP) is an advanced-level certification for IT pros serious about careers in information security. Offered by the International Information Systems Security Certification Consortium, known as (ISC) 2 and pronounced "ISC squared".
CISSP credential holders are decision-makers who possess expert knowledge and technical skills necessary to develop, guide and then manage security standards, policies and procedures within their organizations. The CISSP certification is designed for experienced professionals only.
The CISSP training program is available online, with all the study materials and coursework. An annual fee of $85 is required to maintain the CISSP credential. Re-certification is required every three years.
Certified Information Systems Auditor (CISA):
The CISA certification is a globally recognized certification for IS audit control, assurance and security professionals. With this certification, candidates can showcase their audit experience, skills and knowledge, and demonstrate the capability to assess vulnerabilities, report on compliance and institute controls within their enterprise.
The training material is available online. However, Candidates must have five years of work experience in the fields of Information Systems Auditing, Control, Assurance or Security in order to qualify to appear for the exam.
The certifications listed above are the essential certificates that organizations are seeking professionals for. However, there are many specialized certifications as well, but these are the most essential certifications that can enhance your career in 2017.