RSA Conference is a cryptography and information security-related conference. It conducts information security events around the globe that connect you to industry leaders and highly relevant information. The conference is dedicated to deliver, on a regular basis, insights via blogs, webcasts, newsletters and more so you can stay ahead of cyber threats. The conference is held annually in different parts of the world, including San Francisco, Singapore and Amsterdam.
At the RSA conference, we can find many cyber security experts, new innovative technologies and many researches to explore and solve cyber security challenges. The top vendors from across the industry can be found here, showing products for fighting ransomware, preventing data breaches and more.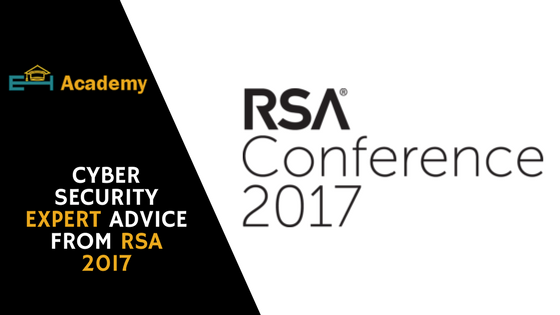 However, all the security applications are useless if users and businesses aren't taking the right steps to protect themselves. So, upon asking leading expert from the field regarding best cyber security tips, they come up with great advice that are easy to follow and essential for every organization:
Joe Stewart, director of malware research at Dell SecureWorks, advised everyone to setup two-factor authentication to protect their online accounts. It can be particularly useful when stopping hackers who are trying to steal login passwords from users, whether through malware or email phishing schemes.
Two-factor authentication will help and ensure the protection even if the password is guessed or cracked. It will allow user to prove identity from finger print or any other source like security message, mobile verification, email and other.
"This would stop most of these fraudsters cold," Stewart said. "Because they are not operating on that level, with things like banking malware that can manage to bypass two-factor authentication."
Mike Sentonas, vice president of technology strategy at CrowdStrike, advised that businesses should think about what assets they're trying to safeguard from cyber threats, as opposed to recklessly buying the latest security products.
Those assets could be staff, intellectual property, customer database, or other business credentials. "Everybody has something of value," he said. "Understand what you have that's valuable. And then understand where it is, and who has access to it."
According to Mike Buratowski, vice president of cybersecurity services at Fidelis Cybersecurity, Many organizations still thinks that hackers will never target them. But that assumption is wrong. He said "Everybody's information is valuable".
Although people don't need to be suspicious all the time, but they do need a sense of awareness that cyberattacks are real and often involve hackers trying to exploit easy victims. He further said, "The person on the other end may not be who they say they are".
Chris Wysopal, chief technology officer at Veracode, advised not to completely trust the technology all the time, not to rely on it every time. That embraces the software and internet services we use or buy. None of these are secure, and it may be easy to breach them.
"Expect it to be compromised," he said. "Don't put data out there, into Facebook or something, unless you really want to share that out to the world."
Jeremiah Grossman, chief of security strategy at SentinelOne, acclaims businesses do an inventory of every asset they own. This can help determine what company resources are online and where they might be vulnerable.
"When a company gets hacked, it's largely because there's a computer, a box, a website that they didn't know they owned," he said.
For small organizations it's a one day task, but for large organizations it can take many days to prepare an inventory list. So, large organization can outsource this process and must not ignore this, as it poses huge security threat to an organization.
However, all the experts have advised for silly negligence that lead to a devastating breach for an organization. Maybe, talking about the effects of these mistakes and negligence can help organizations to think about it and make them serious to look further in preventing these.