Identity theft is a crime in which an attacker obtains potential pieces of personal information, such as Social Security or driver's license numbers, in order to impersonate someone else. The information can be used to attain credit, merchandise, and services in the name of the victim, or to provide the thief with false credentials.
Identity theft has become a rising threat to many organizations and individuals and also affected many. The threat of identity theft is continuous growing and need to be addressed with acceptable and promising strategies to prevent any loss.
The 2017 Identity Fraud Study, released by Javelin Strategy & Research, found that $16 billion was stolen from 15.4 million U.S. consumers in 2016, compared with $15.3 billion and 13.1 million victims a year earlier. In the past six years identity thieves have stolen over $107 billion.
Identity Theft and Fraud Complaints:
Let's talk about some stats that how this threat is rising and seems to be getting out of control of law enforcement agencies. The Consumer Sentinel Network maintained by the Federal Trade Commission (FTC), tracks consumer fraud and identity theft complaints that have been reported to federal, state and local law enforcement agencies and private organizations.
Out of 3.1 million complaints received in 2015, 16 percent were of identity theft related. Identity theft complaints increased by more than 47 percent from 2014, they were the second most reported after illegal debt collection.

However, there are also many reported incidents of misuse of information related to identity that counts in identity fraud. The number shows the devastating figures from which we can conclude that how badly we are failing at securing individual's PII (Personally Identifiable Information) information.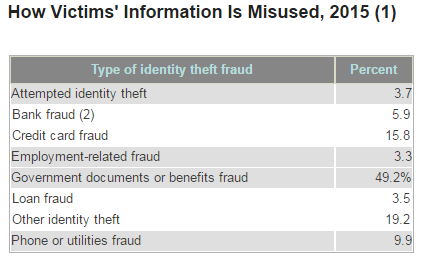 Tips to Protect the Consumers:
Be smart on social media: Reviewing your social media security settings to make sure that your profile is only visible to friends and connections is a good place to start in securing social media from fraudsters.
Protect online shopping accounts: Enabling two-factor authentication on online shopping sites such as Amazon, can make it significantly more difficult for fraudsters to take over your accounts.
Exercise good password habits: Using strong, unique, regularly updated passwords helps reduce the value to fraudsters of passwords stolen in a data breach or through malware.
Be alert for online transactions: Some financial institutions offer alerts for online transactions. These can help quickly detect fraud.
Seek help as soon as fraud is detected: Early notification can also help limit the accountability of a victim in some cases, as well as permits more time for law enforcement to catch the fraudsters in the act.
To prevent identity theft, it is recommended that you check your credit report regularly and follow up with your creditors if your bills does not arrive on time, allow two way authentications for social media and email accounts. Moreover, avoid giving out any personal information in response to unsolicited email as no authentic organization acquire for your credential or personal details over email. One should work cautiously to avoid such tricks by an attacker to prevent identity theft or any other major loss.