Mobile technology has come a long way in a relatively short space of time. In less than 30 years we've moved away from big, brick-like cellular phones and a nascent internet to a world of super-slim and powerful smartphones, tablets and convertible laptops that are able to transmit and store data, as well as hook up the internet, with a simple tap.
It is the fact that mobile devices have become a big security threat as it stores and process some critical information of the user. So, it is highly essential to secure the mobile devices and prevent hackers to gaining access to such critical information.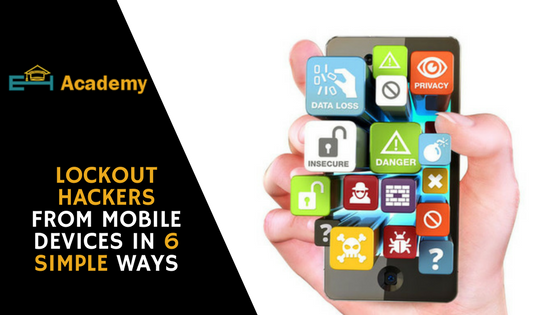 Here are some simple ways to lock out hackers to access someone's mobile device:
Be cautious when using public WiFi Networks:
Public WiFi networks are a common attack parameter for hackers attempting to get access to private information, so you should connect to a virtual private network (VPN) when possible. Recently Mobile World Congress, Avast Software conducted a WiFi hack experiment and it revealed that thousands of trade shows attendees ignored the risks for convenience and put their devices and corporate data at risk.
No data in device:
Data that never exists on the device cannot be lost, stolen or mishandled. First-generation mobile security solutions tried to lock down the device as a way to protect data. Now we know that device's applications still leaves data vulnerable. So, relying on cloud systems is the key to tackle this issue. Moreover, data stored on cloud systems are rated more secured than any other medium.
Enforcing access policies for applications:
One of the easiest and quickest ways to gain control over mobile apps is to check your policies. Every organization should have an easily enforceable policy that covers employee access to mobile apps and the resources. For example, temporary or transitory employees only need access to the apps particular to their tasks, not the entire network. Giving more than required access could be devastating for an organization and beneficial for hacker.
Use of security SDKs for encrypting data:
The usage of Security SDK is an enormous way to protect your data as well as the encryption keys that are ultimately used to protect data. Anytime you can add a layer of security to protect your information, the harder it will be for hackers to access that information.
Make security a part of Application Development process:
We all know that how badly hackers are targeting corporate applications, but security is still separate from the app development process. Security must be considered in the entire development process, from the testing and quality assurance stage, through the production stage before it is submitted to an app store for approval.
Beware of third-party repositories:
Developers frequently include third-party components such as file format parsing, networking and compression libraries into their programs. These modular components fit most programs like a glove and it would be pointless to write new ones every time a developer is writing another program. Developers picking components off the shelf must take the extra time to validate that every component they use is up to date and continue to do so after release.
By considering these easy ways, you can prevent hackers to access and break into any mobile device. Moreover, these easy steps will also help in revolutionizing the organization's security practices that will surely enhance the security posture in the market. However, to implement these steps, no big budget is required, so prevention from hacker can be achieved more easily and economically.