For job seekers hunting for higher pay, job security and the opportunity to work in any sector and in any state, the cyber security field is the place to be. As the cyber threat landscape is evolving, it is no surprise that the field of information security is booming and continuously growing creating new opportunities. Moreover, a report issued by Burning Glass Technologies reveals that job postings across the industry have grown 74 percent between 2007 and 2013—twice the rate of all other IT jobs.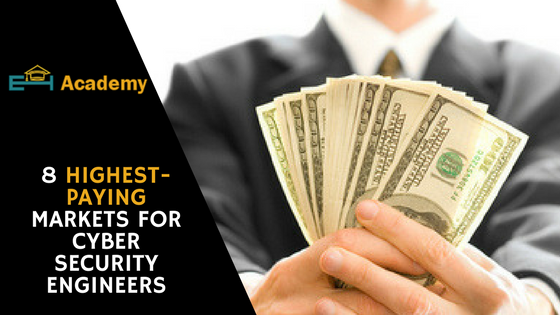 IT security professionals are in high demand; in fact in some metropolitan areas they are offering higher pay than others. Here are some top markets for cyber security engineers:
Sacramento:
$109,814 medium salary
According to Randstat, top five salary market from California scored in the top 20 nationally. Cyber security engineers did slightly better for pay than network security professionals (at $100,425 medium salary) and certified ethical hackers (at $97,850 medium salary).
Minneapolis/St. Paul:
$109,984 medium salary
Minneapolis and St. Paul are among the top-paying places to work for cyber security engineers, with a medium salary of $109,984. Network security professionals earn significantly less (at $97,275 medium salary), but certified ethical hackers can earn $121,900.
Indianapolis:
$110,000 medium salary
You should aspire to get a cyber security job if you want top dollar in IT security in Indianapolis. Salaries drop significantly to $87,550 for both network security professionals (medium salary cited) or certified ethnical hacker (also medium salary cited).
Chicago:
$110,889 medium salary
The Windy City places high value on cyber security engineers, with medium salaries coming in at over $110,000. Certified ethical hackers can earn a bit more ($112,270 medium salary), while network security professionals trail close behind ($105,000 medium salary).
Charlotte, North Carolina:
$108,284 medium salary
North Carolina offers a medium salaries topping $110,000 for cyber security engineers. While, certified ethical hackers can do a bit better ($113,300 medium salary) and network security professionals have some catching up to do ($103,000 medium salary).
Denver:
$111,228 medium salary
Salaries for cyber security professional are relatively high, at $111,228 medium salary. There is less demand for network security professionals (paid at $100,000 medium salary) and certified ethical hackers (at $92,700 medium salaries).
Hartford, Connecticut:
$112,815 medium salary
While cyber security engineers are certainly well-paid at $112,815 medium salary, the real money goes to network security professionals and certified ethical hackers, both of which are earning $129,780 medium salaries.
Philadelphia:
$112,951 medium salary
Cyber security engineers are on high demand in Philadelphia and their salaries goes to nearly $113,000 annually. Comparatively, network security professionals are only slightly behind ($108,150 medium salary), while certified ethical hackers earn more, at $118,450 medium salary.
These survey reports show that the cyber security skills are in high demand and also offer high paying jobs to qualified and skilled professional. However, jobs in the field of cyber security industry revolve around being ethical and loyal to the organization; a single mistake can be used against you and your organization. So, the field requires wide open eyes to catch malicious actors before it's too late.