Each year, millions of records get exposed in data breaches data that are used by cyber criminals for illegal activities. Particular attention is given to medical records, due to its sensitivity. Moreover, cybercriminals attacked the medical industry at a higher rate than any other sector in 2015, and more than 100 million healthcare records were compromised last year, according to a new report published by IBM.
A data breach in the healthcare industry not only has economical and reputational effects, but the effects could be disturbing for the patients due to the nature of the data disclosed. We have already witnessed connected insulin pumps and pace makers, but there are many other connected medical devices too that might surprise you. Each of them of course poses a security risk to you and your health. Moreover, Mandeep Khera, Internet of Things security expert at Arxan said, "Although these things have yet to be maliciously hacked (as far as we know), they could pose a threat in the future. There have been attempts made at hacking various connected devices and it's only a matter of time before it happens".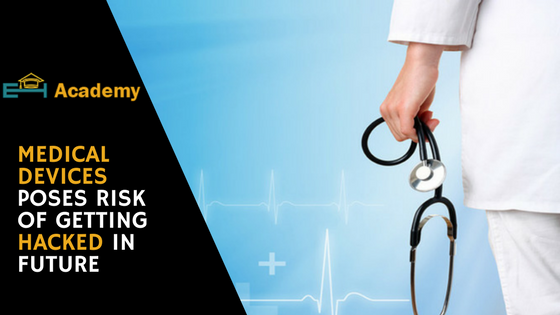 Hacking on these devices can have a variety of consequences from ransomware to loss of life. That is why the Food and Drug Administration is taking this so critically and made a list of devices that poses security threats:
Brain implants:
To treat seizures, Parkinson's, and even OCD, connected brain implants are being used. Patients with smart brain implants contain a device that uploads brain activity to the cloud. It allows doctors to monitor patient brain activity to make informed decisions concerning care.
Vital monitors:
Advancement in vital monitoring technology now provides real-time access to important clinical measurements, including patient temperature, heart rate, and respiratory rate. Connected vital monitors constantly gather data and filter several tests into a single cloud-based platform, so healthcare providers can examine test results anytime, and anyplace.
Prosthetic devices:
By introducing Bluetooth technology into prosthetics, owners now can control their devices that allow more seamless operation and use. However, today, Bluetooth technology is also being used in prosthetics to enhance communication between multiple devices, encouraging a more likely experience.
Connected medication dispensers:
To control chronic illness effectively, patients must follow strict medication recommendations. But, it's often complicated to follow recommendations, especially when they require observation over a long period of time. To overcome this, companies like Philips Medido have developed connected medication dispensers that intimately monitor usage and alert healthcare staff when prescription is not administered correctly or taken every time.
Smart hospital beds
Whether hospitalized for a few hours or a few weeks, hospital beds play an imperative role in the recovery and pain management of a patient. New technology allows medical staff to closely monitor patients through connected hospital beds that provide critical data regarding vital signs, sleep patterns, and more. Through touch-free intelligent and cloud connected monitoring platforms, smart beds present around-the-clock data that can be used to make important decisions regarding patient care.
These are some of the common examples that are risking medical industry to cyber threats. However, there are many other technologies under development to ease the medical industry in various ways. To overcome such threats and risks, cyber security professionals and medical industry should look forward in making these technologies more friendly and secure enough to defeat attacker's new and advanced strategies.