Everyday cyber world encounter thousands of cyber breaches and incidents that cost in the billions. Most of them are irreversible, making them the most disastrous loss to cyber world. Data breach occurs rapidly and requires real time assessment and prevention techniques to halt them and prevent any major loss.
From the beginning of the 21st century to till date, we have witnessed a number of worst cyber-attacks in the history that left their mark in the cyber world and from which we have to learn a lot to prevent future cyber incidents.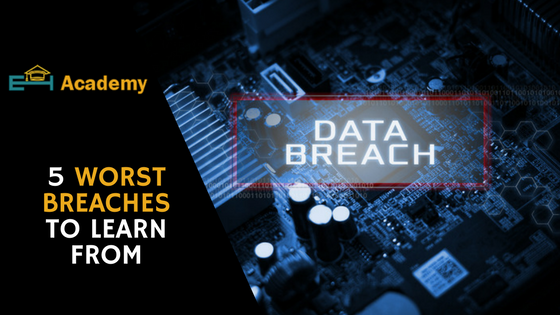 Here are some of the worst cyber breaches of 21st century from which we can learn our lesson to strengthen our security posture:
Yahoo
Date: 2013-14
Loss: 1.5 billion user accounts
In 2016, when Yahoo is being sold to Verizon, announced that they have been the victim of the biggest data breach in history, likely by "a state-sponsored actor," in 2014. Moreover, the attack was discussed in detail that concludes that the attack compromised the real names, email addresses, dates of birth and telephone numbers of 500 million users. Yahoo said that the "vast majority" of the passwords involved had been hashed using the robust bcrypt algorithm.
FriendFinder
Date: October 2016
Loss: More than 412.2 million accounts
The FriendFinder site that included casual hookup and adult content websites like Adult Friend Finder, Penthouse.com, Cams.com, iCams.com and Stripshow.com, was breached in the mid of October 2016. The breach impacted the loss of around 20 years of data on six databases that included names, email addresses and passwords.
Sony's PlayStation Network
Date: April 20, 2011
Loss: 77 million PlayStation Network accounts hacked; estimated losses of $171 million while the site was down for a month.
The Sony's data breach is one of the worst cyber breaches to the global community revealing millions of data of gaming community that includes their bank and card details. The breach affected more than 77 million accounts, from which 12 million had unencrypted credit card details. Hackers gained access to full names, passwords, e-mails, home addresses, purchase history, credit card numbers and PSN/Qriocity logins and passwords.
JP Morgan Chase
Date: July 2014
Loss: 76 million households and 7 million small businesses
During the summer of 2014, the United States largest bank "JP Morgan Chase" fall victim of the largest breach that compromised the data of more than half of all US households – 76 million – plus 7 million small businesses. The data included names, addresses, phone numbers and email addresses – as well as other internal information about the users.
Target Stores
Date: December 2013
Loss: Credit/debit card information and/or contact information of up to 110 million people compromised.
The breach actually began before Thanksgiving, but was not discovered until several weeks later. The retail giant initially announced that hackers had gained access through a third-party HVAC vender to its point-of-sale (POS) payment card readers, and had collected about 40 million credit and debit card numbers.
These are some of the worst data breaches of the 21st century that cost in billions and loss of a number of user details. However, in most of the cases it has been noticed that the breach was discovered after several days. It shows that how ineffective our security systems are. We are needed to deploy real time threat detection and prevention systems to identify such activities before it's too late. Proactive approach to vulnerability and malicious activity detection is the only way to prevent against such attacks.