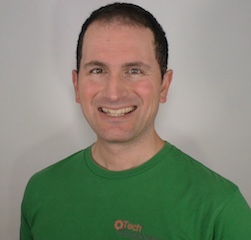 Peter Dalmaris is an electronics hobbyist and Maker, creator of eight online video courses on DIY electronics and author of three technical books.
As a Chief Tech Explorer since 2013 at Tech Explorations, the company he founded in Sydney, Australia, Peter's mission is to explore technology and help educate the world.
A life-long learner, Peter's core skill is in explaining difficult concepts through video and text. With over 15 years in tertiary teaching experience, Peter has developed a simple yet comprehensive style in teaching that students from all around the world appreciate.
His passion for technology and in particular for the world of DIY open source hardware has been a powerful driver that has guided his own personal development and his work through Tech Explorations.
Peter's current online courses have helped over 30,000 people from around the world to be better Makers. His video courses include:
* Arduino Step by Step: Your Complete Guide
* Advanced Arduino Boards and Tools
* Raspberry Pi: Full Stack
* Raspberry Pi: Make a Workbench Automation Computer
* Kicad Like a Pro
* The Electronics Workbench: A Setup Guide
* Arduino Fun: Make a High Tech Remote Controlled Car
* Beginning Arduino: Make a environment monitor system
Peter's books are:
* Kicad Like a Pro: Learn the World's Favourite Open Source PCB Electronic Design Automation tool
* Raspberry Pi: Full Stack: A whirlwind tour of full-stack web application development on the Raspberry Pi
* Arduino: a comprehensive starting up guide for complete beginners