Exclusive
Sale
Lifetime Access to Unlimited Cybersecurity, Linux, Networking, Programming, MS Office & Marketing Courses!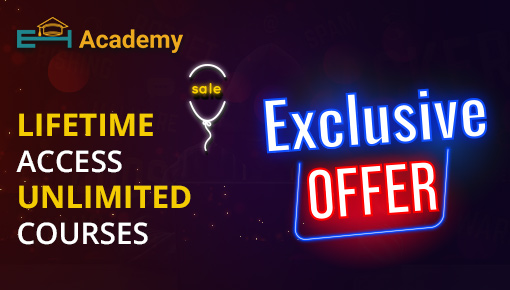 Amazing Offer
EH Academy brings the Amazing Offer. Get Lifetime Access to the Unlimited Cybersecurity, Programming, Bug Bounty & Networking Courses for $49 instead of $5880 & also get 50+ Bonus Digital marketing Certification courses. Moreover, you will also receive verifiable certificates upon successful completion of every course. This offer comes with 30 days Money Back guarantee, so you can claim 100% cash back if you don't like our courses.
Why You Should not Miss this Opportunity?
Access Anytime, Anywhere
Lifetime Access
150+ Courses
30 Days Money back Guarantee
Access the Certified Ethical Hacking, Security+, Networking and other world's known certification program
Learn JAVA, Ruby, PHP, Python, Perl, MYSQL, iOS, Android and other languages
Project Management Professional and hundreds of other training programs
Get access to all for just $49
Get your certificate
Download your personal certificate upon completion of this course.
Why you Should NOT Miss this Offer?
Certificate
Course completion certificate will be provided after successful completion.
Lifetime Access
With life time access to the courses, you can also brush up your skills anytime and learn at your own pace.
Guaranteed Career Growth
Reshaping The ELearning Landscape By Bringing
Practical Exercises
Learn by doing with real world challenges. Each course comes with practical approach.
Computer Forensics course is good covered up essentially content the core of Computer Forensic Investigator, it is not just composed on theory but good practical examples are also given to gain the real world touch. I Definitely recommend this course to everyone.

Edy Susanto
Interesting introduction to the forensics, with excellent approach and very good content.

Fernando Marinho
Enjoyed the courses here, EH Academy is a wonderful place for the IT students and professionals. I got my certificate too and it helped me to get growth at my work place

Rhys George
I'm very glad to be apart of this big World Wide Team Ehacking is the Best."

Dieumeri Balume Messy
Amazing bundles ever I am already in and very satisfied with this offer.

Noor Al-Badri
I enrolled in this course recently for $35 and I found very useful. Everything has been covered and life time access is the coolest part.

Prabhu Raj